After the somewhat disappointing sam gyeob sal earlier, Mr. Stomach insisted that I make up for it. So I suggested Japanese, to which Mr. Stomach burped consentingly. So here we are at our favourite Japanese restaurant. If you read Korean, you'll get the real name. I just call it "The Big Fish". You can see why.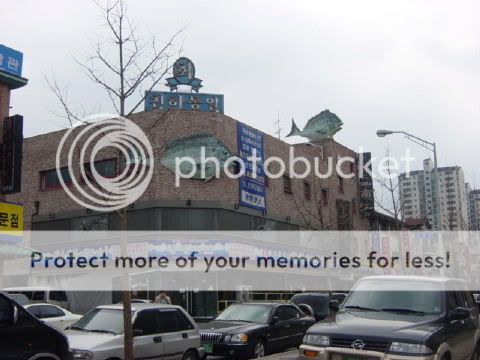 This is a popular lunch hangout for the working crowd in the area (despite the photo - had a late lunch again today). I used to be a regular here, but not of late.
This place is spacious, you can even play hide and seek behind them bamboo shoots. There are several private rooms for those who need to slurp their soup in privacy.
As always, you order your main course and then wait excitedly for the complimentary side dishes. This is what I like about this place - they have excellent side dishes and they don't stinge. Here's what we get today.
Sauteed mushrooms with carrots, onions, sesame seed, seasoning and a dash of sesame oil. Cold side dish.
Fresh salad of round lettuce, alfalfa sprout, shredded cabbage and purple cabbage, sesame seed, dressed in vinegared garlic and a dash of soya sauce.
Now this one I don't like. No matter how many times I've tried, and no matter how many times I've tried to like it, it just doesn't do it for me. Ice cold, very sour, "pick me up" appetiser with radish sticks. Sorry, next.
Now this one I really like. Salt grilled fish with a dash of soba sauce.
Tempura-style fried sweet potato slices and sesame leaves. Goes so well with the accompanying dipping sauce.
The side dishes of salad, grilled fish and tempura fries are the standard side dishes on every visit. The rest will depend on what's overstocked at the local market.
For today's main course, we'll have the seo deo ri mae oon tang (서더리 매운탕). Mae oon tang means spicy soup. Seo deo ri is
black porgy fish
. KRW5,000.
This is a hot and spicy soup (duh!). OK. This is a blaringly boiling-hot, runny-nose inducing, tongue numbing, blood pumping bowl of fish soup. Dig in and you'll find lots of leek, straw mushrooms, garland chrysanthemum vege, water spinach, sliced turnip & beansprouts. Delicious!
Good value for money this, with the side dishes and all. Thumbs up. OK. Mr. Stomach is happy now. Back to work.