Mr. Stomach usually associates rice porridge, called juk (죽) in Korean, to times when one is sick, bed-ridden, digestively impaired or after a nasty visit to the dentist. :o) Every region in Asia has its own variant, and I could write loads on porridge, but I digress. Let's talk Korean porridge.
Juk refers to more than just rice porridge, and encompasses what is regarded elsewhere as deserts. Broadly, I would categorise juk into 2 categories - savoury and sweet.
The savoury juk are rice porridge in a variety of flavours - seafood porridge, oyster and mushroom porridge, chicken porridge, shrimp porridge, clam and seaweed porridge, vegetable porridge, etc. The sweet juk include red beans juk, pumpkin juk, black sesame juk, gingko juk, etc.
You can check out
this website
for photos of the various samplings of juk found in Korea.
Today, we're having tuna and vegetable porridge (참치야채죽) because I just blew KRW350,000 crowning a fractured tooth.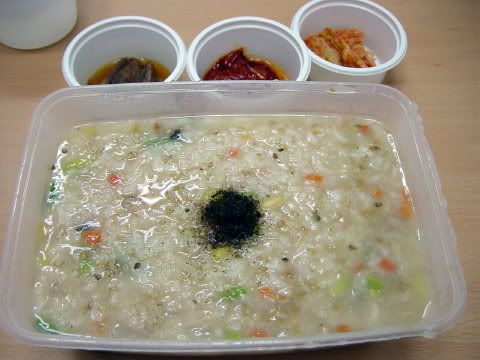 Delivery came in a clear plastic rectangle box. Very very hot, so watch your fingers as you pry open them lid.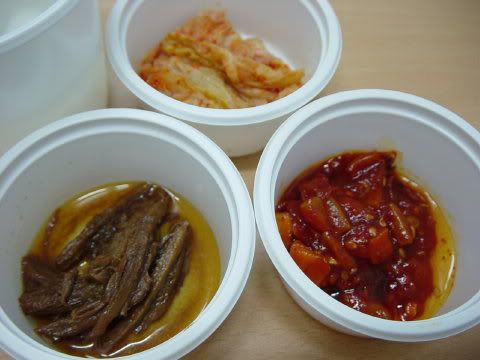 Accompanied by 3 side dishes (from top) cabbage kimchi, carrot kimchi and heavily-salted shredded beef.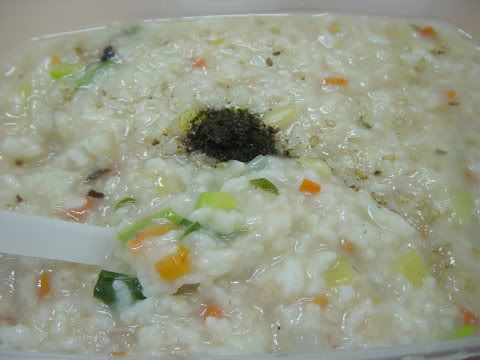 The porridge is cooked using a pressure cooker, which allows the rice grains to cook and soften quickly while not turning them into overly mushy glob. Korean rice grains tend to be softer and sticky compared to other Asian clones. The use of pressure cooker also results in a high heat retention rate. The darn porridge was still burning my tongue 15 minutes into the meal!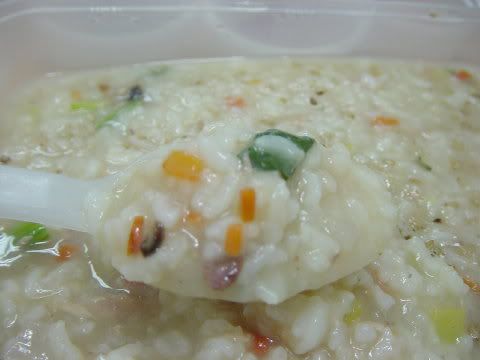 In the porridge you'll find diced cucumber, carrots, mushrooms, corn(!), brocolli, onions and canned tuna, topped with a sprinkling of roasted sesame seeds, crushed dried seaweed and black pepper. KRW5,000.
There are far better things to eat in Korea than this tuna vege juk. That's my verdict.

This is interesting. The disposable spoon provided had a toothpick cutout on the handle. Very handy if you're into tooth picking.