I'll be honest. FatMan Seoul is going through a dry spell. The blog I mean, not the man. The man's as wet as ever.
Lately, I haven't been very excited by many of my foodie adventures. Pretty much same old same old - there's only so much dosirak a blog can take. Hence the lack of food posts of late.
The ones that did excite me and worthy of blogging, didn't make it to the blog. They were either formal lunches and dinners or because they were in settings not appropriate to poke my digicam into the food. So you guys have missed out on some rather interesting seafood such as live octopus, monggeh and other unmentionable creepy wriggling stuff. Not to worry, I'm sure I'll get the chance to blog it for you guys one of these days.
That said, I thought I'd start blogging, not personal recommendations mind you, but rather leads that I've read about or sent in by readers - just to share with you guys. Who knows? Maybe some of you living in Seoul MAY actually find it useful. Goodness knows this blog has been utterly useless thus far.
Legalish gibberish out of the way first - I'm reproducing The Korea Times articles on the blog itself as Korea Times will archive older materials, and the links below may no longer work in time to come. Pasting them here should preserve it for latecomers to the blog. All credits to The Korea Times and their reporters.
Red bean juk
at The Second Best Place in Seoul (Seouleso Duljjaero Jalhaneun Jip), Samchongdong-kil (Samchongdong Road), near Kyongbok Palace.
Autumn Delight: Try Red Bean Soup at Seoul's 2nd Best Place
By Kim Hyun-cheol, Lee Yong-sung, Staff Reporters

Autumn is a season many South Koreans are proud of. Leaves change color and prepare to shed for the upcoming winter.

With weather like this, it is no wonder Seoul has some really nice promenades like Samchongdongkil (Samchongdong Road). It is a small but long stretching road that begins at the corner of Kyongbok Palace and runs through Samchong Tunnel, leading to northern part of the city.

Strolling along the path and enjoying the flurry of yellow gingko leaves, you may miss a small teahouse with the sign "Seouleso Duljjaero Jalhaneun Jip" (The Second Best Place in Seoul) among the many fancy restaurants and cafes lining both sides of the road. But once you spot the place, curiosity about the mysterious name may urge you to explore what's inside.

"I find the word "second best" charming," owner Kim Eun-sook, 65, said. She can often be seen cooking through an open window that faces the street. "So many people argue that they are the best and it's not fun. Second best sounds more unique to me and it also inspires me to always try to do better."

Although it is called "second best," do not underestimate this place. Since opening in 1976, the small oriental teahouse has been serving select oriental herb teas that are popular when the weather starts to get cold.

The old-fashioned but cozy interior soothes visitors and the aroma of oriental herbs linger in the narrow hall usually packed with people eating or waiting for their takeout orders.

The majority are here for one thing, especially at this time of year. What they are after is a small bowl of red bean soup (5,000 won).

Red bean soup is a traditional dish in Korea and China and is believed to ward off evil spirits and ghosts with its red color. The version served here; however, is one similar to a sweet Japanese-style dessert. Owner Kim says she added it to the menu to remind her of her childhood.

The soup is composed of peeled red beans and has a light but sweet taste. It is quite different from the typical overly sweet Western dessert. Seasonal nuts such as gingko nuts and chestnuts along with a dash of cinnamon are used as toppings. A huge chunk of rice cake is hidden in the soup and tastes wonderful, as it is covered in the sweet soup.

"I try not to change the interior of the cafe or the flavor of my dishes and as long as I run the place things will stay the same," Kim said. "That's also what my regular customers want. I think they want their favorite places to remain unchanged since they themselves have to change to adapt to the fast pace of life."







Kongnamul kukbap
at Koryo Sikdang, Sodaemun, near the Seoul Metropolitan Office of Education and Kangbuk Samsung Medical Center.
'Kongnamul Kukbap' Perfect Hangover Remedy
By Lee Yong-sung and Kim Hyun-cheol, Staff Reporters

Upon hearing its name, people might wonder if the restaurant, Koryo Sikdang is in North Korea, since the name is rarely found among the names of diners here, sounding a little outdated and even rustic.

But trust us. You cannot judge a restaurant by its name, as much as you can't judge a book by its cover. In fact, Sodaemun, where the 21-year-old restaurant is located, is one of the busiest business districts of Seoul, where five of the major newspaper companies and a few of the nations' leading corporations have their headquarters.

Densely packed with office workers who often binge drink until midnight, or even through the next morning, the soup is perfect to calm down one's stomach after a long, heavy drinking session. Koryo Sikdang, located on the way to Seoul Metropolitan Office of Education from Kangbuk Samsung Medical Center, has well served the need since it was opened in 1983, with premium quality kongnamul kukbap (rice with bean sprout soup).

A first time visitor might be wide-eyed, realizing there is much more than just bean sprouts in the soup costing only 4,000 won. Dried pollack is used to make the rich broth, while plenty of small shrimps, bajirak (a kind of small clam) and an egg are also added, deepening the flavor, as well as increasing its nutritional value.

When it comes to kongnamul kukbap, what usually comes to people's minds is Chonju, North Cholla Province. The area is famous for the soup in which rice is served in it from the beginning, with kimchi and changjorim (marinated and stewed beef). However, few know that the modern, metropolitan city of Seoul has its own distinct food traditions like the one presented by Koryo Sikdang's kongnamul kukbap.

Open all year around from 6 a.m. to 10 p.m., the kukbap of course is not the only dish available at the restaurant.

Pulnak kongnamul (rice with seasoned pork and small octopus, 5,000 won) has been the two most popular dishes from the time of Koryo Hospital, 21 years ago, where the Samsung Medical Center is now. Besides the two, ttukbaegi pulgogi (steamed beef, 5,000 won) and Tolsot Pibimbap (steamed rice mixed with vegetables and meat, 4,000 won) are equally recommended.

"Like in any other food businesses," Kim Young-ja, 55, the restaurant's owner told The Korea Times. "Freshness of ingredients is the key. We never use anything older than a day". Among the loyal customers of the dinner are popular television actor Im Hyun-sik and news reporters and even CEOs.

"The soup is refreshing and also tastes good. I bet every one will like it, especially after drinking," Jeon Hyun-ju, an employee of nearby publisher Darakwon said.

Tel: 02)739-5293, 5166
Parking: Unavailable
Credit Card: Available
Opens every day from 6 a.m. to 10 p.m.







Taiwanese food
at Hyangmi, Yonnam-dong, near Hongik University.

Try Taiwanese Flavor at 'Hyangmi'
By Kim Hyun-cheol, Lee Yong-sung, Staff Reporters

The fate of the Chinese community in South Korea, most of whose members are from Taiwan, not mainland China, went together with the relationship between Korea and Taiwan when South Korea broke off diplomatic relations with Taiwan in 1992.

Once thriving with many businesses around Myungdong, where the Taiwanese Embassy located, the community is just visible in another area of Seoul where some Chinese schools are available.

Along the road across from the Yonnamdong area, between Hongik University and Yonsei University, stand several Chinese restaurants. But you can't expect the same kind of dishes to be served in those as in other typical Chinese restaurants in Korea. Dishes such as Chajangmyon (mixed noodles with Chinese bean-paste sauce) and Chambbong (spicy seafood noodles) are simply not on the menu.

Run by Hwakyo, or Chinese people living in South Korea, usually in the form of a family business, they serve dishes more similar to the authentic Chinese style and the same applies to Hyangmi, one of the "real" Chinese restaurants in the area. The place is well known for its Taiwanese-leaning menu.

Hyangmi, which means "flavor of homeland," serves various kinds of Chinese dishes attracting both Chinese and Korean customers and most dishes here are served in two sizes, large and small to help vary the choices for customers. Some authentic Taiwanese dishes like Paigufan (Taiwanese style pork cutlet on rice, 5,000 won), which are hard to find in other places, are also available here.

The most loved on the menu are, no doubt, jumbo-sized baozi (dumpling, or mandu in Korean, 5,000 won) and the peculiar Taiwanese dish of niuroumian (beef soup noodle, 6,000 won for small and 8,000 won for a large serving).

Once the plate full of baozi, formed in Shandong style after the shape of traditional Chinese foot binding, is placed on the table, you can't help being surprised by the gigantic size of the dumpling.

Five pieces make one serving but for most normal eaters, it will take a bit of work to finish them off because they are all just a little bigger than an adult man's fist. Splitting one in half, you will see stuffing made of a variety of ingredients including a couple of different mushrooms, pork, vegetables and fried bean curd.

"A total of 10 things are there," Chao Lienyi, 63, owner of the restaurant, said. "I started the menu because I wanted to try something not common to others."

Niuroumian, one of the more typical dishes back in Taiwan, has the unique flavor of Chinese dishes that comes from a stock seasoned with Oriental spices like wuxiang (ohhyang, five assorted spices). The dish is a favorite among many Koreans because of its fresh and chewy noodles and clean aftertaste from a long-boiled beef stock.

Among other dishes, "Chicken cooked with wuxiang" (8,000 won for the small serving and 15,000 won for large) is another preferred one. The deep-fried, steamed and chilled chicken pieces, marinated in a special sauce with spices and garlic, makes a great compliment to Chinese liquors. Watch out for the generous sprinkling of coriander topped on the dish if you are not lover of this herb, which is not too popular among South Koreans.

"Taiwanese dishes are characterized by unique and impressive fragrance and relish from lots of spices, but we try to balance the amount of spices used in our dishes to satisfy both Chinese and Korean customers," Chao said.







Buddhist-temple vegetarian
at Sanchon Vegetarian Restaurant, Insa-dong.
Their website provides extensive information, so it's pointless to regurgitate it here. The site also accepts reservation (required) and provides direction to the place. Map reproduced here for easy reference: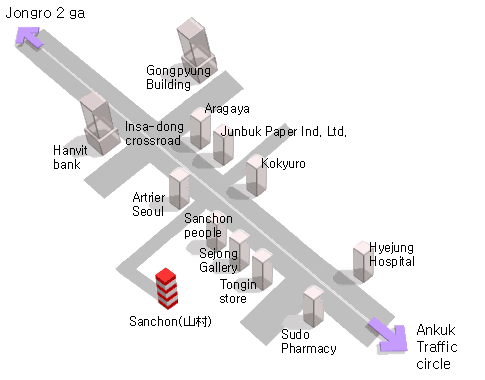 Sanchon Vegetarian Restaurant was recommended by long-time reader Willow (wonder if she's still reading the blog) and offers a 17-course vegetarian lunch and dinner.
Bear in mind I've not tried any of the above, YET, but rest assured if and when I do, they'll find their way onto this blog. It'll be light blogging here for the next few weeks. Till next time, happy eating.