Tonight we're having galbi jjim (갈비찜), or beef ribs stew. I've been meaning to blog this ever since I started this blog, but never got the chance till now. Armed with my camera, I told myself I'd do it before year's end. So here it is.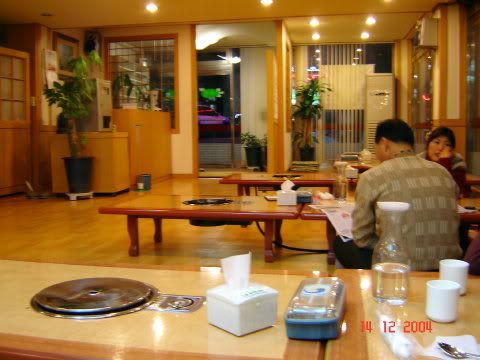 It's a wee bit quiet here tonight, probably because I'm early. It's about 6.00pm and a tad early for dinner by local standards.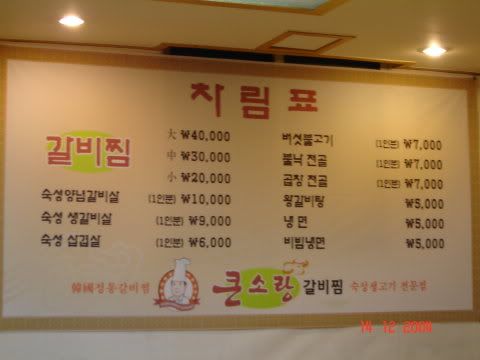 This is their menu. The signature dish here is evidently their galbi jjim.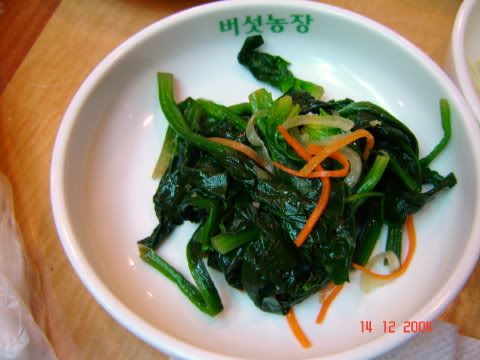 Let's get the side dishes (반찬 - ban chan) out of the way first. Here's blanched mustard greens with shredded carrots and onions, with a touch of sesame oil and soya sauce.
This is pan-fried squash in egg batter. Pretty standard stuff.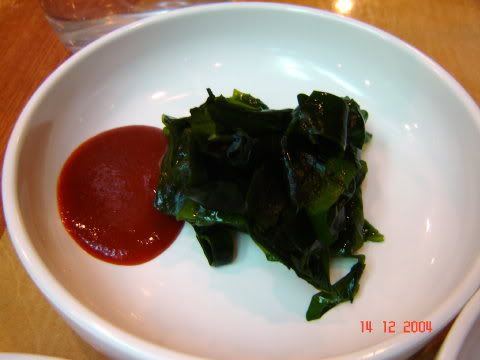 Boiled then chilled seaweed strips with vinegared chili sauce. The seaweed's a little gooey and has a "unique" (read slimey) taste if taken on its own, but when dipped in that sourish chili sauce it's pretty good.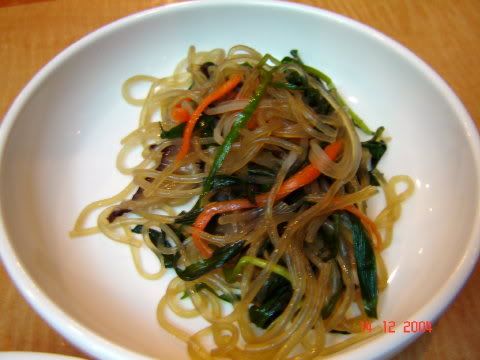 Everyone's favourite, the jab chae (mixed vegetables) - blanched spring onion leaves, carrot, onion, black mushroom, and lots of dang myeon ("glass" noodles made from sweet potato starch). The dang myeon is boiled in water that is mixed in with soya sauce, sesame oil, laver, onion, garlic, pepper, salt and sugar, to give it flavour and that darkened glossy finish.
Hand mix everything and season generously with soya sauce, sesame oil, salt and pepper. Very nice.
Not authentically Korean, but this is typically served in most places here - shredded cabbage in ten hundred island dressing. For the mathematically impaired, ten hundred = thousand.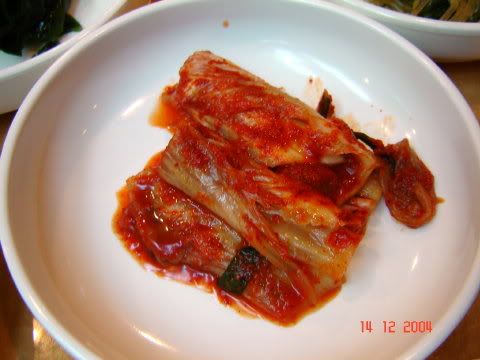 This has to be in every meal, isn't it? Cabbage kimchi in fiery red flames.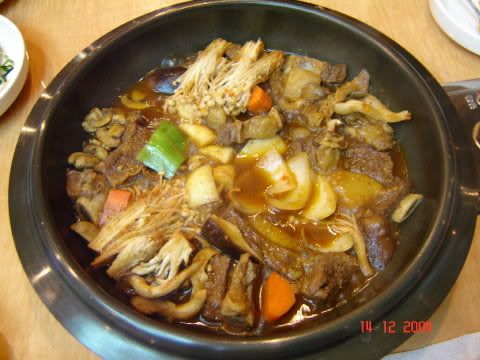 Here's what we came for - the galbi jjim - short ribs of beef which have been simmering for hours in this wonderful brown sauce. No we haven't been waiting here all these hours just for this meal. It's all pre-cooked, silly!
They just scoop the beef ribs from a larger pot, top it off with some straw mushrooms, button mushrooms, shitake mushrooms, large onions, carrots and green bell pepper (capsicum) and bring it the table as pictured above. The table-top stove continues cooking the vegetables for a couple more minutes and you're ready to have a go at it.
The portion pictured above is the smallest of the 3 available sizes - KRW20,000. Medium (3-4 pax) goes for KRW30,000 and large (4-5 pax) for KRW40,000.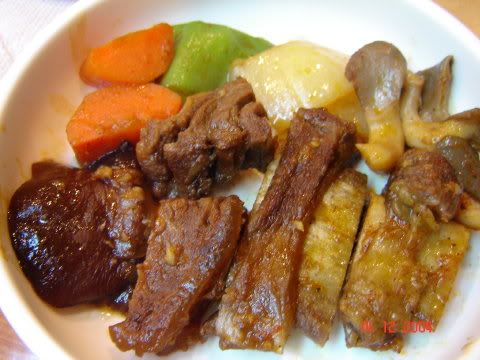 The sauce is a nice blend of I-don't-know-what-so-if-you-do-please-tell-me and is sweetish and just a slight hint of chili-heat. The Chef at this restaurant was not willing to part with his secret recipe, so here's my feeble attempt at trying to decipher what's what in this galbi jjim. The sauce has these elements - soya sauce, sugar, onion, garlic, ginger, black pepper, sesame oil, chili powder, rice wine, jujubes and Korean pear juice. The sweetness of the sauce is further contributed by the accompanying vegetables - carrots, capsicum and onions.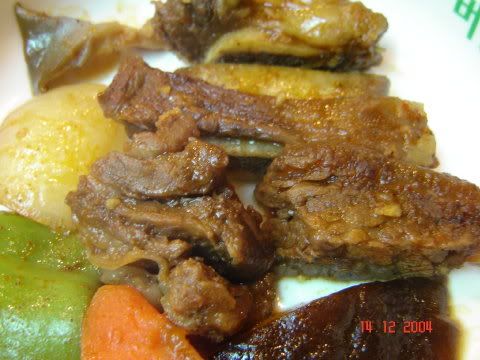 All that hours of simmering infuses the delicious sauce deep into the beef, resulting in a soft, juicy, bursting with flavour meat that falls off the bone. The meat is cooked just right, not overcooked and tough. Yes the much-cliched "it melts in your mouth" applies here as well. The sauce goes great with steamed rice too.
This is one of those tourist-friendly dishes that I'd recommend to Korean-food virgins. It's a very nice break-in dish for newcomers to the cuisine, before moving on to the other tongue-numbing snort-inducing Korean favourites.