OK. The previous post was my feeble attempt at comedy. Not very good, I know. Sorry .....
My New Year was spent at
Yong Pyong Resort
, and boy did I spend! The Yong Pyong (Ski) Resort is in Gangwon-do, the province east of Seoul. It's approximately 200 kilometres from Seoul, or about 2.5 hours by road. Several days if you walk from Seoul though. Yong Pyong, along with
Muju Ski Resort
, are the largest two in South Korea in terms of slopes, lifts, facilities and acreage.
I did notice, which isn't very hard as you see it everywhere, that the Resort goes all out to brand itself as "Yong Pyong All-Season Resort", highlighting that it's not just a winter destination. There's golf, trekking, blah blah blah .... anyway we're here for the snow and skiing. So let's go.
(p/s : ignore the time stamp on the photos - they're all screwed up)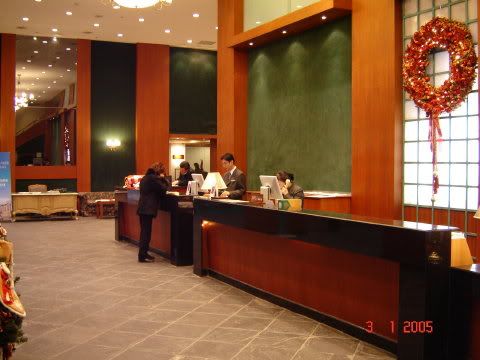 Stayed at the Dragon Valley Hotel - KRW240,000 per room per night. Pricey for what I would regard as a very basic room. Sorry no photos of the room.
This is the check-in lobby.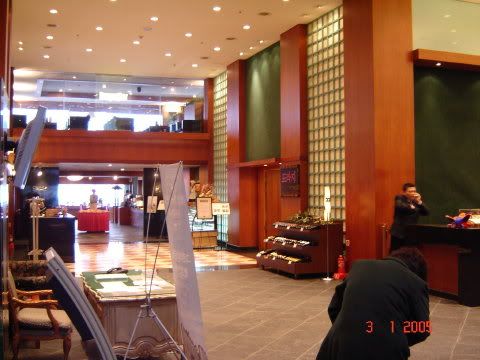 This is the hotel's smallish (12-15 tables) coffee house right at the end. Had dinner there one night, KRW15,000 average per person for a plate of fried rice or chicken main course. The entrance to the Korean restaurant is to the right of the coffee house entrance in the photo above, just after the wine racks.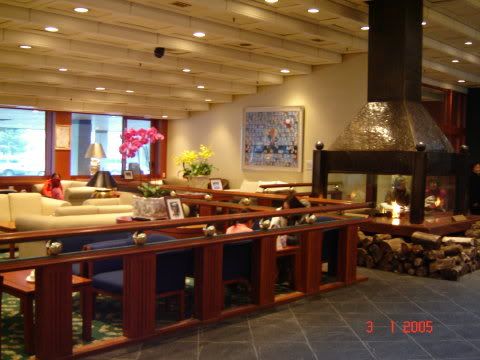 The Hotel's lounge, complete with fireplace, which is purely for show though. The burning of 2 puny logs isn't going to warm my -8 degrees body.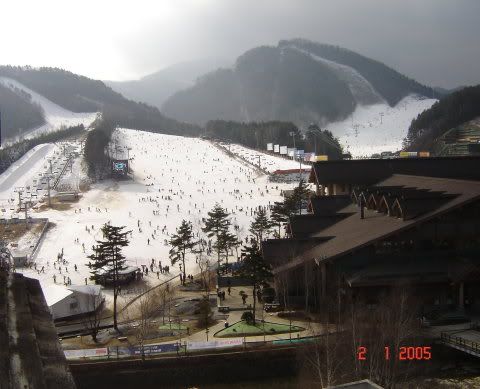 An overview of the main slopes. They look like ants on a sugar hill. This shot was taken from the hotel room.
The building to the right is the Dragon Plaza Ski House, which is the main ski complex. More on that later.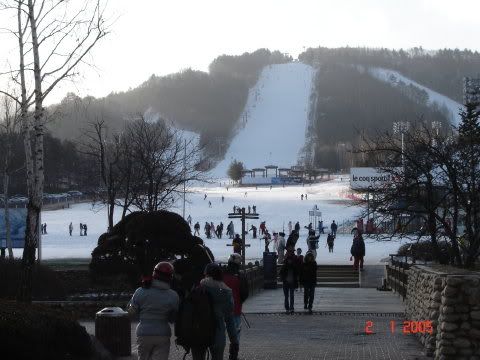 The walk from the Hotel to the slopes is only a short one, some 100 metres or so. Exiting from the hotel, you're greeted with this view.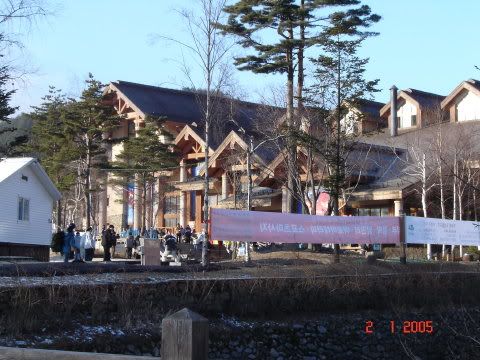 This is the Dragon Plaza. This is where you get to rent your equipment (if you don't own your own) and lockers, dressing rooms, ticketing booth for the ski lifts, eateries, pro shops, ski schools and the medical facility. Speaking of the latter, there sure was a lot of ankle twisting going on there that day.
The ski rental rates are pretty decent. You can get suited up with skis, boots and poles for about KRW25,000 or thereabouts. Snowboard rentals are about 25%-30% more.
Complete info at their website if you need to know.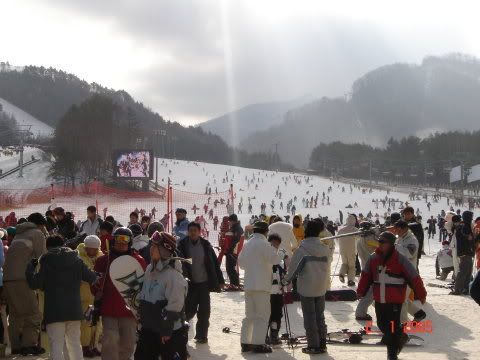 A fine day to be skiing or boarding. Clear skies, sunny weather .....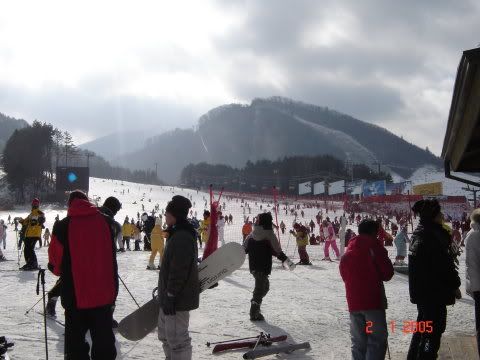 .... and about 2,000 people screaming their way down the hills.
Oh, and if you happen to see the many craters in the snow on your way down, that would be where my body and the ground met. My apologies if you happened to be one of those that fell into it that day.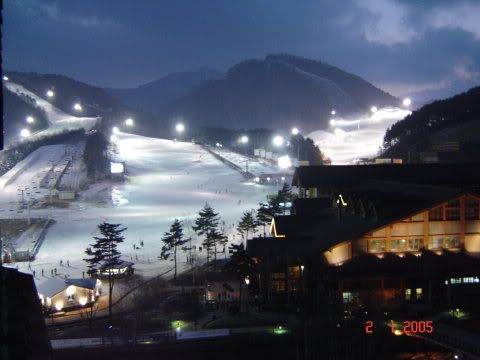 The hills at night. Night skiing lasts until midnight. Impressive use of floodlights.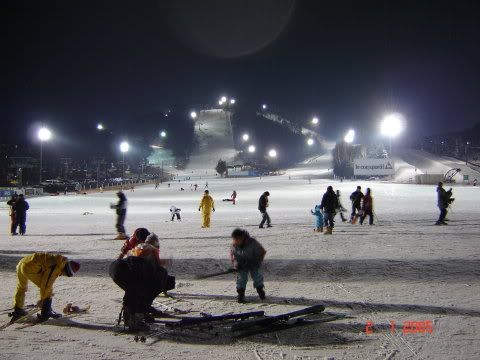 Obviously, it's less crowded during the nights, so it's an ideal time to try out that new three and a half somersault + back-flip routine that's been playing in your head for months.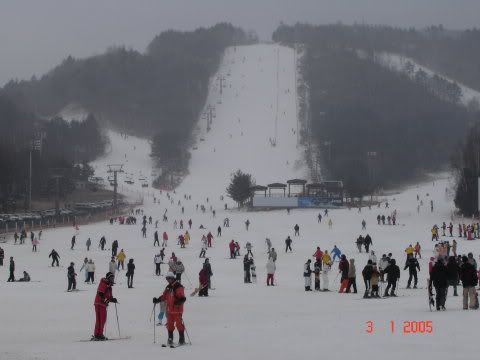 Although it may not seem apparent from the photo above, it actually snowed pretty hard the next day. I can't seem to capture any snowflakes on my digicam. Anyway, trust me - it was snowing.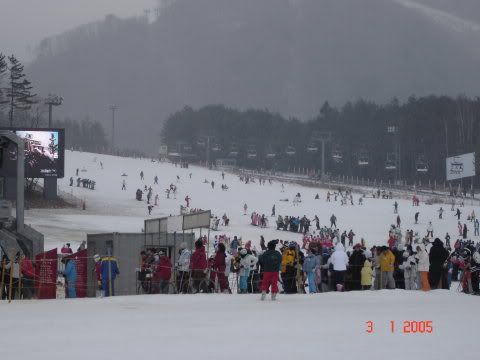 And yet the queue for the ski lifts doesn't cease.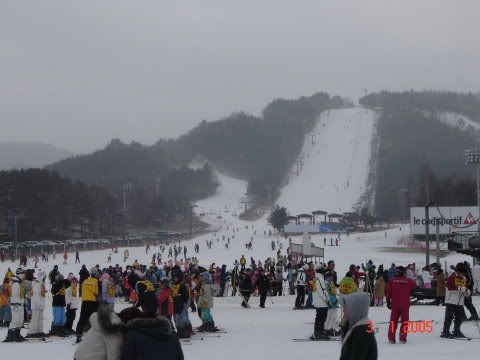 I had set aside the last day to take the gondola (cable car) up to the peak of Mount Balwang. I was hoping to catch the supposedly great view from up there at Dragon Peak. It's too bad the weather was not permitting, and the gondola services were halted in view of the strong winds. You can't see Dragon Peak from down here. It's tucked away somewhere at the back of the immediate hills. Well, just my luck. Maybe next time.
Oh, and how could I not mention this. Yong Pyong is also where many of THAT popular TV series, Winter Sonata's scenes were shot. So it's no surprise to see Management capitalising on this with not-so-subtle hints and cut-up posters of the series' main stars strewn everywhere. If you're a fan of Winter Sonata, you'll feel right at home. You can all play a game of "remember this is where ..... " and "yes yes this is the spot where Bae Yong Jun kissed Choi Ji Woo" and so on .... needless to say, I'm not a fan.
All in all, it was a great start to the New Year. Hope you enjoyed the photos, even if they're not gastro-porn.