FatMan's in the mood for some beef. There's this place in Gottlieb Road that specialises in beef steamboat. Let's go.
(note : crummy photos due to poor indoor lighting and not using the flash on the digicam to avoid disrupting other beef-lovers)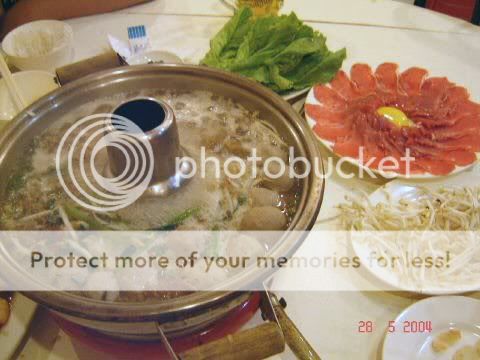 "Steamboat" is also referred to as "hot pot", "sang wor", "shabu shabu", "sinseollo" and other various terms in different parts of the world, all variations to the basic theme. Bottomline, it's a pot of stock into which you throw everything in, let it boil and then eat!
There's a mixture of all things beefy in this pot - slices of beef steak, brisket, tendon, tripe, flank and beef balls (meatballs). The stock itself is truly a work of art - beefy, peppery, very flavourful. Wished the proprietor shared the recipe with me ..... (this I figured as he whisked off ranting "silly FatMan trying to pinch my grandma's recipe?? cannot-lah .... siaoooo .... ") ("siaooo" meaning "crazy" I believe)
Slivers of the thin-sliced beef is served separately. It's best this way as you only cook it when you want to eat it. Just a quick dip into the pot is all it takes to get that nice soft pinkish result. Anything longer and your beef's overcooked.
You can add the egg if you like. Not me. I like it the way it is.
Total cost of the meal was RM50.00 (USD13.00).
__________________________________________________________________________________
Sidetracking, this is the view from the balcony of my hotel room. Different hotel to the earlier one.
There's a sunken bar in the pool. I can get drunk while swimming. Excellent idea, dude.