Today's lunch was a quickie order of 코돈부르 (cordon bleu) ala Korean style. This is a variation of the standard 돈까스 (don kaseu), or deep fried pork cutlets.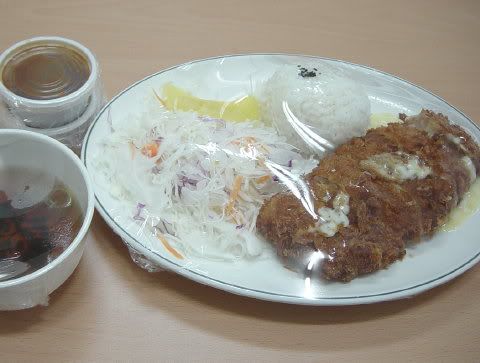 Delivery took all but 15 minutes, and arrived typically in layers upon layers of shrink-wrap. As I've mentioned before, most Korean deliveries come in proper tableware and not some flimsy disposable container.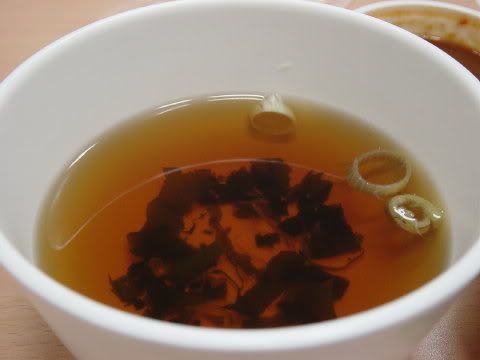 The order came with a bowl of seaweed soup. Still hot from all that shrink-wrap protection. A tad salty though.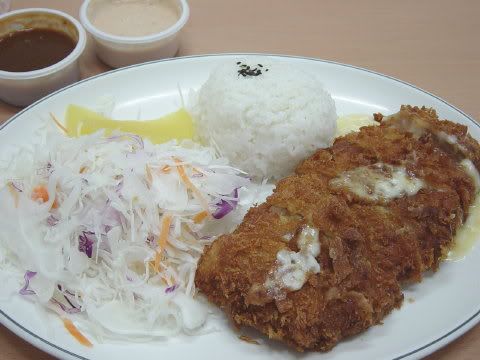 This is what you get - a bowl of rice (decorated with a sprinkle of black sesame), yellow radish pickle, cabbage salad and a sizeable portion of meat filet.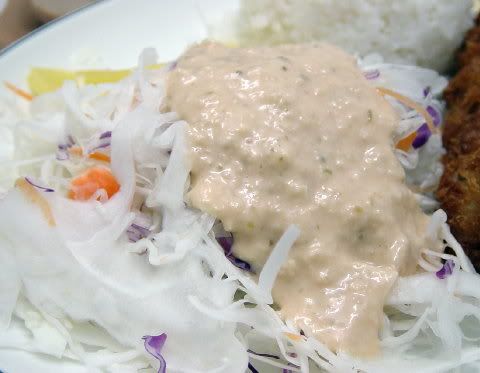 The salad comes with thousand island dressing.
The menu made no indication of what meat it was, which left me to anticipate chicken breasts, which I think is a fair assumption since chicken cordon bleu is the gold-standard.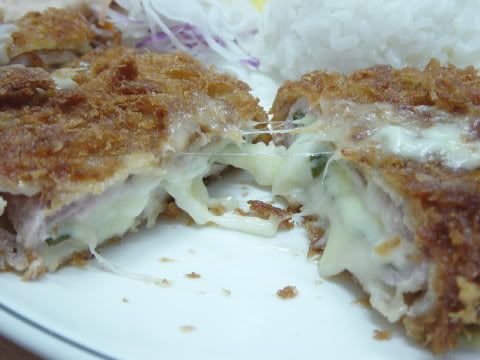 Slitting it apart revealed thin slices of pork that enveloped the cheese and spinach stuffing. No Canadian bacon to be found even as I dug deep, but it did have little chunks of ham in the melted cheddar and mozarella cheese combo.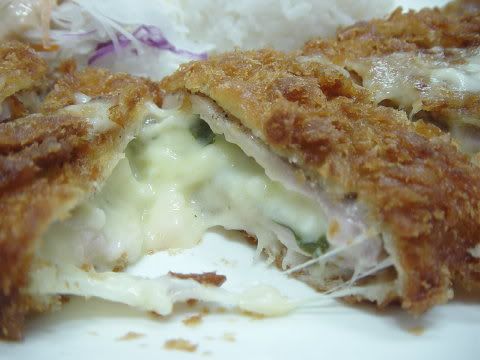 It's not too bad actually, and a nice change from the mundane standard don kaseu. But somehow, pork just doesn't go that great with cheese, for some reason. Maybe it's just me! Anyway, it comes at a premium price of KRW7,500 when the standard don kaseu can be had for KRW5,000 or thereabouts. Half thumbs up.
______________________________________________________________________
On a sidenote, just thought you guys should know that we in South Korea are finally able to access Blogspot (Blogger) sites since early this week. It's been over a month since President No's Government banned the domain. Nonetheless, we're still unable to access any blogs hosted on typepad, livejournal and blog.com. Counting the days till that gag order is lifted. In the interim, peace everyone.