Today, we're having budaejigae (부대찌개) for lunch. I believe there is a folklore or story to how this came to be, but I haven't got down to research this. It's called "military stew" or "soldier's stew" presumably because it must have been the staple for the guys in green out there in the warzone. If you guys know the story to this, please share them with us in the commentary section.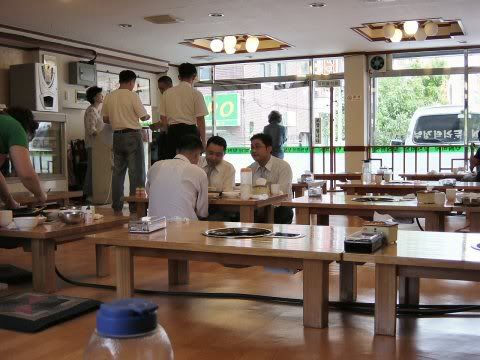 Corporate soldiers making a meal of their own.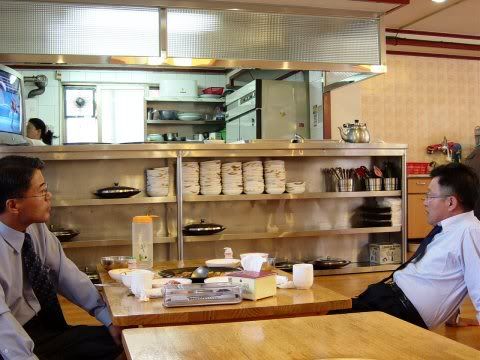 Ahhh ... another satisfied soldier. The Olympic games playing on the telly. The kitchen in the background.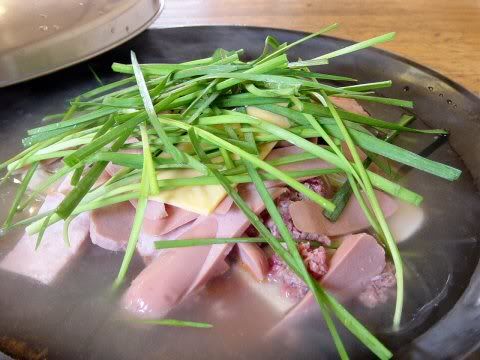 The budaejigae starts off by
throwing
placing all the ingredients into a shallow pan and then pouring some stock over it and let it boil.
In this particular budaejigae, you'll find sliced sausages, luncheon meat (spam), minced beef, korean glass noodles, chili paste, chili powder, cabbage kimchi, chinese cabbage, leek, spring onions, a slice of cheese(!), minced garlic, large onions, button mushrooms, tofu beancurd and dtok (flour cakes).
Some places serve their budaejigae with canned baked beans, mandu, ramyeon noodles or udon noodles etc. I guess there's no hard and fast rules when it comes to budaejigae. Anything goes but the sausages, luncheon meat, some form of noodles and chili paste are the common denominator.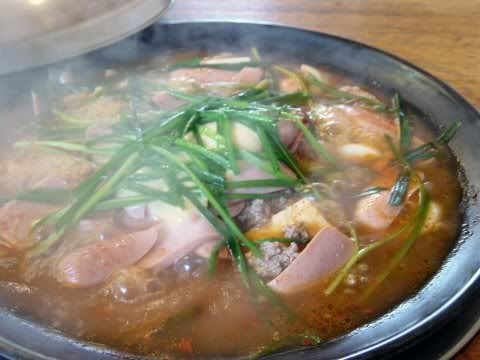 Slowly slowly it boils. This is how it looks like about 6 minutes in.
A couple more minutes and you get this. The soup thickens and turns red-er, and a quick test-taste to confirm if it's done. Lower heat and let it simmer as you begin your journey to budaejigae-land.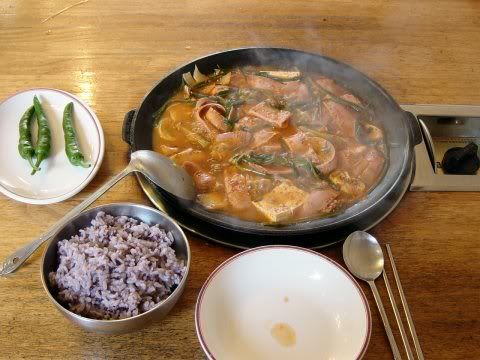 This is one person's portion. KRW7,000. I returned the kimchi and some other side dishes that came with it. Waste not want not.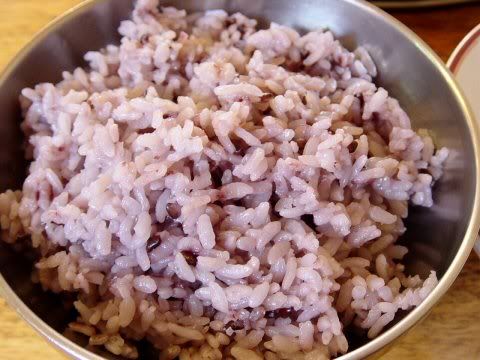 I love the purple rice that's common here in Korea. I don't know if it's the grains themselves or just colouring. Anyone?
A sampling from the pot. Clockwise from 12 o'clock : sausages, leek, onion, canned luncheon meat (spam), beancurd (tofu), minced beef, button mushroom and korean noodles.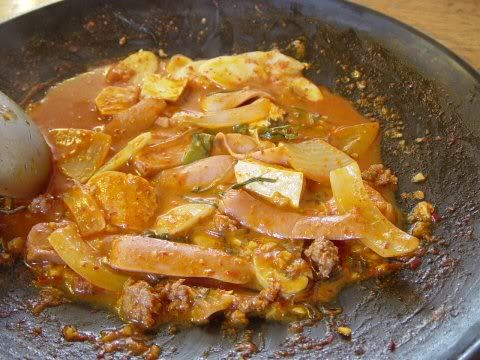 Let it simmer as you eat and you'll get to this stage where the stew's all thick and Yummy!