I'm interspersing the backlog posts from my trip to Malaysia with current posts from Korea. Sorry if it's causing you guys jet-lag. At the dismal rate I'm going, we should be all caught up by year's end(!!). So, we're back to Kuala Lumpur (affectionately known as "KL") again for this post.
Today, we're talking about dim sum, that perennial favourite Chinese breakfast. The last time I had dim sum was actually in Korea at
Jackie Chan's restaurant
. In that post, I had also explained a little bit about this thing called "touch the heart".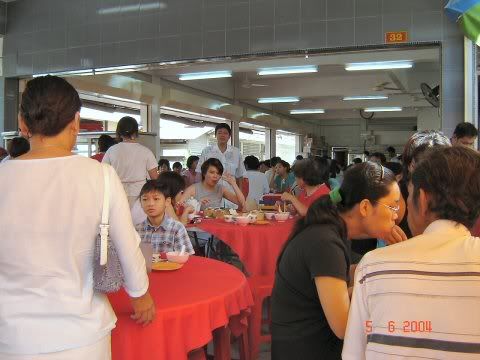 While in KL, I was introduced to this place in Sungai Buloh, an old industrial town in a somewhat remote area from KL. This place is really packed in and obviously very popular with the locals.
Here's the protocol - what you need to do is briefly scout around **insert Tom Clancy's Splinter Cell background music here** for a table that looks pretty much done and mark your territory by standing beside the customers as they finish their meal (see photo of recognisance scouts above). Any discomfort on your part as they choke hurriedly on their food as you stand there impatiently watching them eat is natural but excusable. The moment they stand up, it's your table baby! Oh ..... and we had to wait 15 minutes for our table.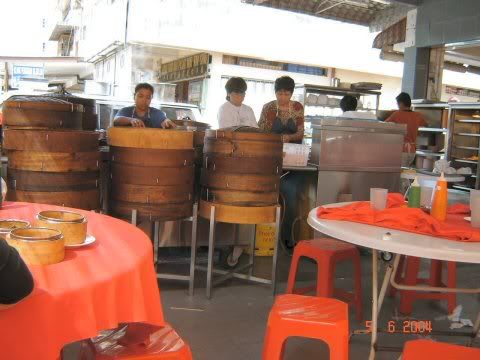 A good sign to any dim sum place is the use of traditional bamboo steamers. You won't find any of them shiny stainless steel contraptions here. OK, I'm a traditionalist.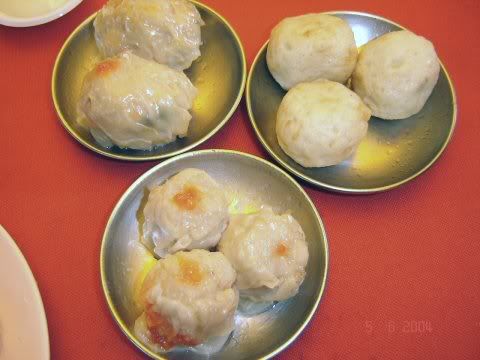 The use of bright red table cloth does not help this novice photographer. Colors in this series are a little off due to inexperience use of PaintShop. Manually adjust the image settings on-camera, I hear you say. Man if I knew how to do that, I wouldn't be in this jam now would I? I'm a point-and-shoot simpleton. OK back to the food.
Clockwise from top left : mushroom dumpling, "yee wat" (fish paste ball) and "siew mai" (pork dumpling). The mushroom dumpling is basically pork dumpling with the addition of slivers of black chinese mushrooms. The "yee wat" fish paste ball is different from the "yee tan" (fish ball) in that the former is coarser in texture and firm whereas the standard fish ball is super smooth and bouncy soft. I'm a big fan of "yee wat" and this one doesn't disappoint. It's firm and bouncy to the bite. The "siew mai" is always a popular choice at any dim sum meal. The filling is made from minced pork, finely diced water chestnuts, spring onions, chinese parsley and seasoned with soya sauce, sesame oil, chinese cooking wine and a dash of oyster sauce. I'm not sure if they've added any other "secret recipe" to their trademark dish. Anyway, it tastes darn good.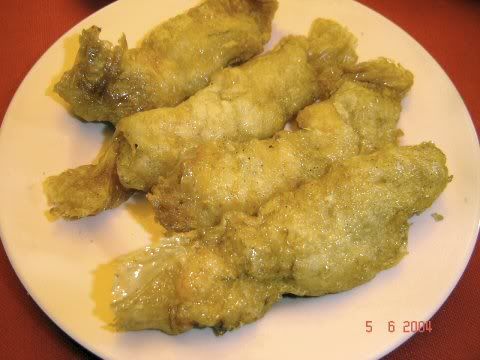 A plate of fried "chun keen" or dumpling roll. Same filling as that used in the pork dumpling except here it is rolled with a thin sheet of soybean skin and deep fried to golden brown. There's a mayonaise dipping sauce to go with this, but it's perfect as it is.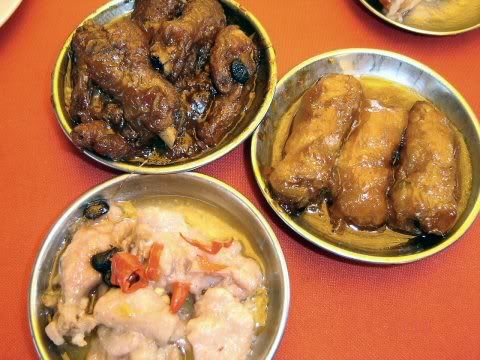 Clockwise from top left : braised chicken feet in black beans, fried dumplings in sour plum sauce and steamed porks ribs in black beans and sliced chilis. Interestingly, the glamourised name given to the chicken feet is "phoenix claws" so don't be mislead into thinking anything exotic when you're placing your order.
The chicken feet (nails clipped, of course!) is first marinated with thick soya sauce and sesame oil and then deep fried till brown. Only then is it steamed with the black bean sauce. So the chicken skin actually peels off easily and still a little crunchy despite soaking in the sauce. This is one of my favourites.
The pork ribs is another dim sum favourite. Little bits of pork ribs with bones intact are marinated with chinese preserved bean paste ("lam yee"), sesame oil, chinese cooking wine and light soya sauce for several hours. It is then steamed with sliced fresh chili and black beans. Nice.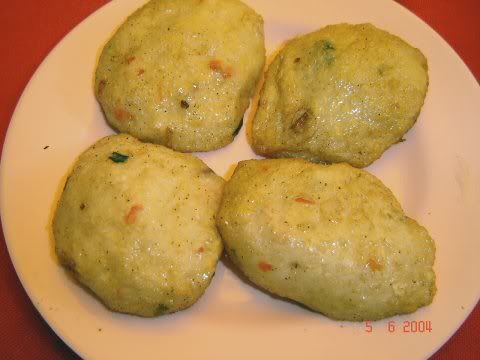 A plate of fried fish paste fritters. Nothing spectacular here. Deep fried fish paste with bits of carrots, fresh chilis and spring onions mashed in for color and texture.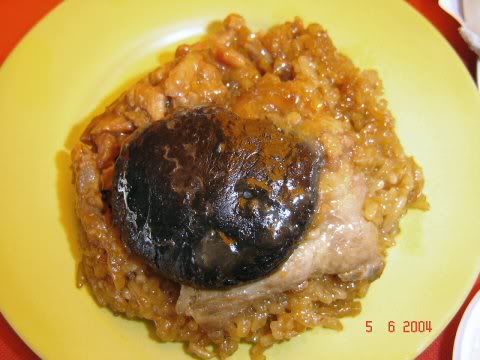 This is "lor mai kai" or steamed glutinuous rice with pieces of chicken, pork and black chinese mushroom. Seasoned with oyster sauce, soya sauce, sesame oil and Chinese cooking wine. Very nice.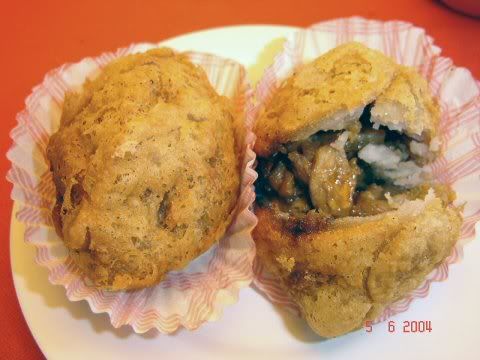 This is "woo kok" or yam dumplings. Mashed yam with filling of chuncky diced pork, chinese mushrooms, shallots, garlic and seasoned with oyster sauce, hoisin sauce, thick and light soya sauce and Chinese cooking wine. When fried, the outer layer of the mashed yam turns golden brown and crispy on the outside yet soft inside. A definite favourite.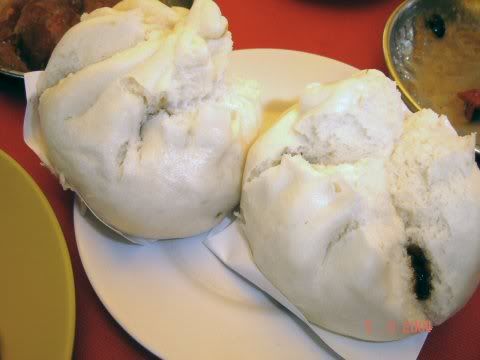 What dim sum meal wouldn't be complete without the compulsory order of "char siew pao" or steamed pork buns. The bread-like skin is warm, soft and fluffy and the sweetish "char siew" pork filling oozes out as you rip it apart. Perfect end to the meal.
Pricing wise, expect to pay between RM1.80 (USD0.50) to RM4.00 (USD1.05) per plate/serving, depending on the items you order. Typically you can expect about 30 - 40 varieties of dim sum (steamed and fried items) to be offered at your table. The waiters will bring them to your table on the large bamboo trays and you pick the ones you one and off the waiter goes to the next table. The pricing is determined by the shape and color of the plates, kinda like in a sushi bar. My only wish now is that they have decent dim sum at these prices in Korea. OK. End of moment. (Visa .....)