Ipoh is another hotspot for foodies in Malaysia. Located approximately 200km north of capital Kuala Lumpur, Ipoh was once a bustling hub of colonial Malaya, thanks largely to its central location in this tin mining region.
These days, it attracts foodies who converge onto Ipoh for that oh-so-famous beansprouts, "hor fun" (flat noodles) and "pak cham kai" (boiled whole chicken, then cut and served in soya sauce). Sadly, I'm unable to bring to you any of these. Perhaps next time. Instead, let's try some of the other goodies.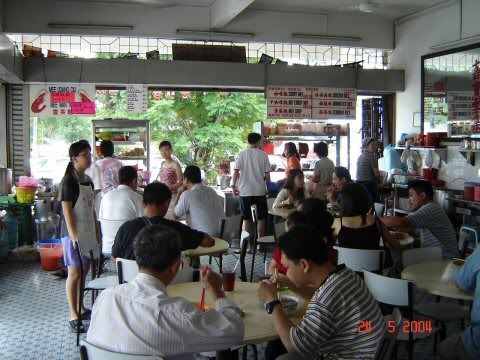 This is a typically "coffee shop", a colloquail term for an eatery with numerous stalls selling a variety of hawker fares. This is the scene at breakfast time, circa 7.30 a.m.
This coffee shop is famous for several items, which we will explore soon enough.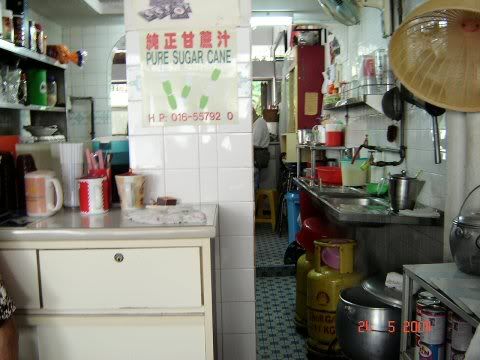 This is the area where the drinks are made. Ipoh, and this coffee shop in particular, is famous for its "white coffee" and the 70+ year old man behind the counter (partly hidden) has been dishing this out since, well .... a long time.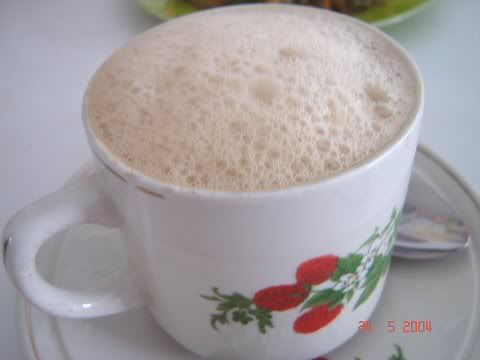 We start breakfast off with a cuppa. This is the white coffee, a frothy cup of caffeine heaven, chipped cup and all. An excellent blend of fresh local coffee ground (secret family recipe), sugar and sweetened condensed milk. RM1.50 (USD0.40).
After drinking this, you can forget all about Starbucks and the rest of the gang of overpriced coffee-mongers. This one beats them all.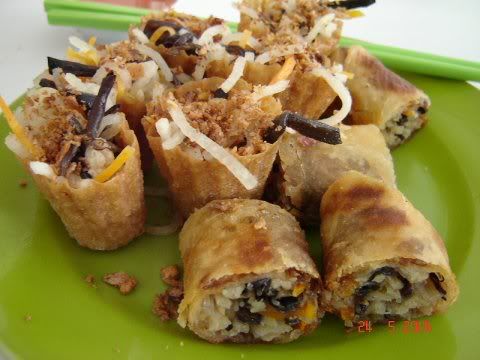 After that excellent caffeine fix, next up are some "pie tee" (top) and deep-fried "popiah" (springroll, bottom). The fillings for both are identical and made from finely shredded trio of yam beans or "sengkuang", "cloud's ear" fungi mushroom and carrots, and topped with fried shallots.
The difference is that the springrolls are wrapped in a thin flour skin and deep fried till golden brown while the pie-tee are spooned into a prepared deep-fried flour shell. Dip in chili sauce for added kick. Yummy. RM1.50 for each springroll and RM4.00 for half a dozen pie-tees.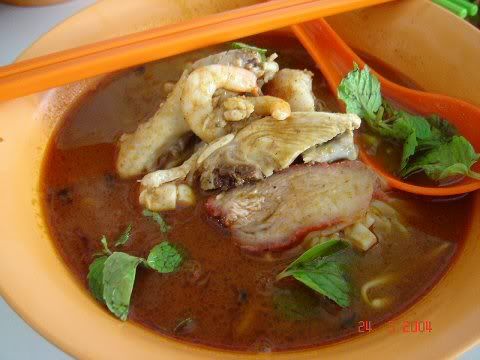 Another popular item at this coffee shop is the Ipoh "kari mee" or curry noodles. You get a bowl of noodles in curry soup, and topped with cuts of chicken, prawns and sliced "char siew" (red-coloured barbeque pork), beansprouts and finally garnish with fresh mint leaves. RM3.00 (USD0.80) per bowl.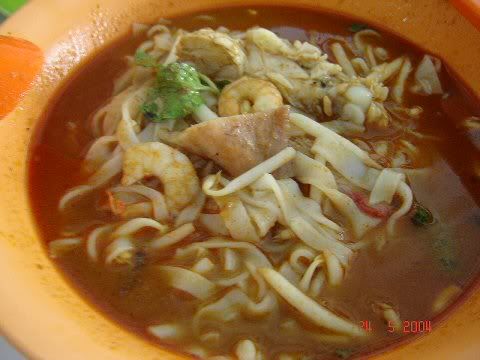 You can choose from a variety of noodles, and I opted for the "hor fun", an Ipoh speciality. This silky-smooth noodles are a real treat. Thumbs all the way up! (I'm getting hungry even as I type this!)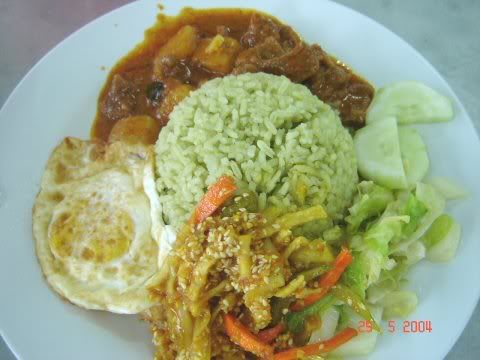 In another part of Ipoh, I stumbled upon this rather unusual variation on the perennial Malaysian favourite, "nasi lemak". Strictly, the Malay words "nasi lemak" means rice enriched with coconut milk. Nasi lemak however generically also refers to that fragrant rice + accompanying sambal (spicy chili blended with shrimp paste), curry, egg, cucumber, peanuts and various other add-ons. It varies to no end, but the common denominator is that rich fragrant rice cooked in coconut milk.
What is different with the above is the absence of the nasi lemak, which has been substituted with "nasi pandan" instead! What they have done here is to cook the rice with screw pine leaves (in Malay called, you guessed it, "pandan"). The result is this fragrant green-coloured rice you see above. Served with (clockwise from top) mutton curry and potatoes, sliced cucumber, stir-fried cabbage, "acar pickle" (vinegared and spiced sticks of carrots, cucumber, cabbage and crushed peanuts and topped with sesame seeds) and fried egg. RM4.50 (USD1.20).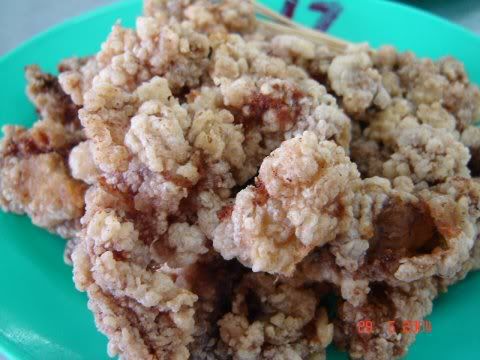 Pictured above is another of my favourite. Although not known to most outsiders, it is very popular with the Ipoh folks and it's hard to find any just as good elsewhere in Malaysia. This is deep-fried mantis prawns or as the local Cantonese would call it, "lai liew har". Photos and info on mantis prawns
here
and
here
if you're interested.
The prawns are de-shelled, minced, coated with flour and deep-fried. The prawns offer a unique flavour not found in typical prawns. Absolutely delicious. RM8.00 (USD2.10) per plate.