I first stumbled onto this place late last year but took no serious interest in it at the time. Recently,
the man visited Seoul
to watch the Korean blockbuster Taeguki, and of course, dined at you guessed it. So I was intrigued.
We're talking here of
Jackie Chan
, of course. The man needs no introduction. As a movie star, I'd accept but as a restauranteur, I'm suspect. So off I went to try out Jackie's Kitchen with the preconceived expectation that the food wasn't going to be all that great, but I was there more for its novelty value.
Jackie's Kitchen (JK) is located at the concourse area of COEX Mall, next to the KFC where the
Coffee Bean
cafe used to be. Actually, that was how I first discovered it last year. I was needing my coffee fix at my regular Coffee Bean only to realise that it's been shut down and replaced by JK. I Googled at little and discovered that JK is in Japan, US and only lately Korea. Surprisingly, none in Hong Kong, which makes you wonder about the competition over there.
As you'd expect, JK serves predominantly Cantonese cuisine, ala Hong Kong style. They've thrown in a couple of Thai and Vietnamese choices on the menu for good measure. However, going by its name proper, I'd says dim sum and noodles are their specialities. Check out
Jackie's Kitchen website
for their full menu.
*pause* A little bit about Chinese food here in Korea - chinese food in the form of a sit down meal with rice and course dishes is regarded as "fancy food" here (jajang myeon and the likes excluded) and is not cheap relative to other parts of Asia. To give you an idea, a small plate of sweet & sour pork cost about KRW10,000 - KRW15,000. A dish of tofu can set you back the same. Seafood like fish or prawns? Forget it! Looking at JK's menu, it would seem to be priced somewhere in the middle tier, less expensive than a proper chinese restaurant but more expensive than standard korean fare. *play*
The interior is pretty
contemporary
yuppie. His face is plastered all over the place and on the far wall is a banner autographed by the man during his recent visit. The place is pretty small, but tables were well spread out and not cramp. There was a decent queue waiting for tables.
Nothing oriental in looks here unlike more "traditional" chinese restaurants. Then again, JK never held itself to be that. Obviously, its catered to the young chic and hip crowd. No wonder they were giving me funny looks that day.
Being a dim sum and noodles place, I guess I should go for just that. This is the siu mai (pork dumpling). KRW3,900.
Dim sum translates to dim=touch & sum=heart. I am not accustomed to paying this much for a serving of dim sum, so I felt more like it touched my wallet more than my heart. However, despite my sceptism, I was pleasantly surprised. Taste wise, it is on par with those found in Hong Kong. The filling was moist, well seasoned and chuncky. Just the way it should be.
Notice the chuncky bits of pork and the whole prawn. Nice. My only complain would be the skin - a tad dry and texture could be smoother - but still acceptable. Otherwise, it's pretty good in a town where dim sum is scarce.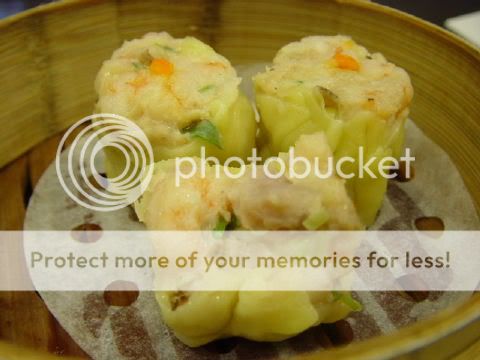 Next was the Marinated Beef Noodles Soup. KRW8,500. This is a street favourite in Hong Kong.
It is served in a very yuppie square bowl (!) which holds the soup, noodles, black mushroom, button mushroom, sliced bamboo shoots, baby pak choy (vege), sliced beef and topped with spring onions. The sliced beef is well marinated in a mix of oyster sauce, soya sauce, 5-spice powder and other seasoning. It's a generous bowl of noodles indeed.
The noodles are fresh, soft and smooth, akin to hand-pulled noodles. The beef stock is flavourful but not overpowering with "beefiness". The button mushrooms seem out of place here but I'll make room for some artistic licence. You won't find button mushrooms popping up in Cantonese cuisine very often though.
My real gripe is actually the beef itself. The sliced beef had very poor texture and was somewhat tough. Typically, one would coat the sliced beef with a little tapioca flour or corn starch before cooking to (1) smoothen the texture and (2) give it a glazy shiny smooth look. The folks at JK didn't do that. So what was had was dry (which I suspect was pre-cooked and set aside for waaay too long before serving) and tough beef slices.
It is an otherwise great bowl of noodles if not for the less than perfect beef.
JK's fried rice and other noodles are also of equally generous portions, so that's good. The dim sum is relatively expensive in my opinion as it will take lots of servings before it hits your tummy. One final gripe - where's the chili oil accompaniment ?? It's just not the same without it.
In spite of my ranting and initial sceptism, all in all, the food's really quite satisfactory. Next time I'll try their orange coloured noodles.